Nepal gets new leader, but future still jittery
Nepal got a new prime minister after seven months of a leadership vacuum. Some say the new coalition may result in boosting the agenda of the Maoist party.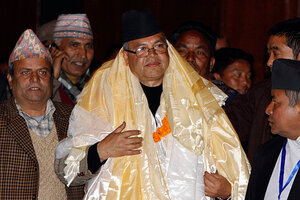 Binod Joshi/AP
Nepal got a functioning prime minister after seven months of leadership vacuum on Thursday, but analysts refused to call it a breakthrough and remained jittery about the future of the country's stalled peace process.
Jhala Nath Khanal, the chief of a moderate communist party, Unified Marxist Leninist (UML), was elevated to the post after 16 rounds of voting. He got last-minute backing from the Unified Communist Party of Nepal (Maoist), which fought a 10-year war against state forces until 2006.
While a step forward after months of embarrassing votes, the formation of a government is just a small step toward political stability in Nepal, which confronts the serious challenges of settling the future of some 19,000 Maoist combatants and drawing up a new constitution. And analysts say that the new coalition threatens to cause a left-leaning polarization and an escalation of ambitions of the Maoists, who are now in a position to oust the new prime minister at will.
The previous government was backed by the moderate Nepali Congress party and several ethnic parties, making it less receptive to Maoist demands. Those demands include radical land reforms, subservience of the judiciary to the legislature, and a constitutional provision of banning "antinationalist'" political parties.
---