Japan earthquake eyewitness: Skyscrapers were 'like trees blowing in the wind'
'As the shaking continued to build,' says Nicholas Roberts of the Japan earthquake, 'something much more primal was telling me to just get out of the building as soon as possible.'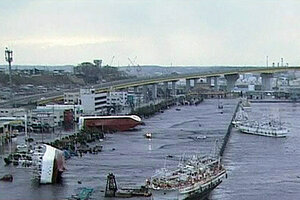 NHK TV/AP
Three months before Friday's earthquake and tsunami in Japan, Nicholas Roberts moved to Tokyo with his wife. While as aware of anyone living here of the so-called "Ring of Fire" that subjects this nation to repeated earthquake-causing tectonic plate movements, Mr. Roberts recalls how nothing could prepare you to witness cars bouncing into the air and skyscrapers swaying in the wind like giant Redwoods.
The market researcher from London provided the Monitor with this eyewitness account of one of the largest earthquakes in Japanese history:
The surprising thing was that I wasn't the only one who seemed unprepared. I know that native Japanese go through regular drills when they're at school for how you're supposed to cope in this kind of situation, but my Japanese colleagues at the job I started just a week ago seemed as much at a loss about what to do as I was. Perhaps there just is no way you can really prepare for an earthquake.
We were in our second floor office when the first shocks hit. They were relatively gentle, the kind of thing that I've already felt since my arrival and that seem pretty common place for Tokyoites. It didn't take long for it to register that this was not the normal passing tremor though and as the force gradually built, my colleagues' looks of acknowledgment started to look a bit more like panic.
---