Radioactive leak plugged, officials now eye hydrogen buildup: Japan nuclear timeline
Officials say workers have stopped highly radioactive water from leaking into the ocean from the stricken Fukushima Daiichi nuclear plant's No. 2 reactor. Concerns now center on a buildup of hydrogen inside reactor No. 1.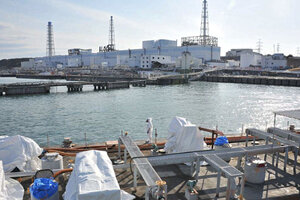 Japan Maritime Self-Defence Force/Reuters
This timeline will be updated with the latest nuclear developments in Japan.
Week 4, April 4 - April 8
April 6: Emergency workers have managed to stop the radioactive water, measured at 7.5 million times the legal limit, from leaking out of the Fukushima Daiichi nuclear plant's reactor No. 2 and into the ocean, say officials. Plant operator Tepco is now concerned about a build-up of hydrogen inside reactor No. 1, which may mean the reactor's core is damaged. As a precautionary measure, officials say workers are preparing to inject nitrogen into the containment vessel to try to bring the reactor under control. Meanwhile, Japan's official spokesperson, Yukio Edano apologized to neighboring countries for not notifying them before they started pumping low-level radioactive water into the ocean this past weekend.
---