Kim Jong-il wraps up economic 'study tour' in China
North Korean leader Kim Jong-il is said to have visited factories, a solar panel plant, and a supermarket. Beijing's goal is apparently to push Kim on economic reforms.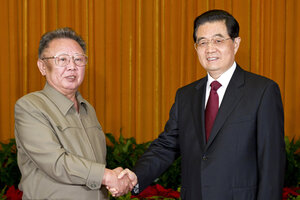 Li Xueren/Xinhua/AP
North Korean leader Kim Jong-il left Beijing Thursday on a heavily guarded train, after two days of talks with Chinese leaders during which he is thought to have asked for increased aid for his country's beleaguered economy.
Since he arrived in China last week, Mr. Kim has visited factories, a solar panel plant, and a supermarket, according to Japanese and South Korean media reports, in an apparent effort by Beijing to persuade him to undertake economic reforms.
"There has been a clear emphasis on economic development throughout the trip," says John Delury, who teaches International Relations at Yonsei University in Seoul. "It has highlighted China as an economic development model for North Korea."
Kim's presence in China has not been officially confirmed by either the Chinese or North Korean governments, as has been standard on previous trips, which were acknowledged only after they ended. This was his third trip to his biggest benefactor in just over a year.
The visit coincided with a fact-finding trip to Pyongyang by a US delegation led by Washington's special envoy for North Korean human rights, Robert King. The purpose was to assess the food situation in the reclusive nation, which has been appealing internationally for emergency food aid.
---