Cambodia's Khmer Rouge genocide trial battles political pressures
A UN-backed court in Cambodia has started a landmark genocide trial of four senior Khmer Rouge leaders, whose brutal regime in the late 1970s killed nearly a quarter of the population.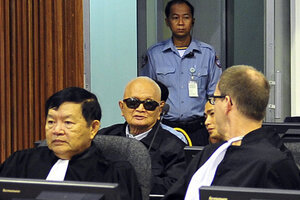 Mark Peters/ECCC/Handout/Reuters
A UN-backed tribunal began hearings Monday into the cases of four Khmer Rouge leaders accused of genocide and crimes against humanity from 1975 to 1979 after toppling a pro-US regime at the end of the Vietnam War. The procedural battles in the landmark trial underline the tribunal's complex makeup.
As many as one-fourth of Cambodia's population died from execution, famine, torture, and overwork under the Khmer Rouge, which tried to build a classless agrarian utopia sealed off from foreign influences. The group was driven from power by invading Vietnamese forces and fought a guerrilla war that lasted into the 1990s before it collapsed.
All four suspects deny the accusations and some have challenged the court's jurisdiction, setting the stage for a lengthy and complex trial. Using witnesses and written evidence, prosecutors will try to show a chain of command between the leadership and the mass killings and other abuses carried out in its name. The indictment cites the deliberate targeting of ethnic minorities as evidence of genocide. Other charges include war crimes, torture, and religious persecution.
The Khmer Rouge tribunal was set up in 2005 to provide accountability and justice to a nation that has struggled to come to terms with its violent past. Until now, it has only prosecuted a prison-camp director who was sentenced last year to 19 years in jail.
The current batch of suspects, however, may be the last to be tried, as investigating judges appear unwilling to take on further cases. Legal experts say pressure from Prime Minister Hun Sen, who wants to limit the tribunal's scope, as well as fatigue among some foreign donors, have weighed on the court.
---