Japan's Kan feels pressure after disaster reconstruction minister quits
A week into his new job, Japan's disaster reconstruction minister resigned after making remarks widely criticized as offensive during a visit to the tsunami-devastated northeastern coast.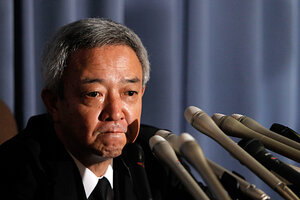 Yuriko Nakao/Reuters
The new government minister for reconstruction, Ryu Matsumoto, resigned today after a weekend trip to the devastated northeast where he berated senior local politicians, appeared to threaten to withhold aid, and joked that he had no idea where the towns and cities of the region are.
Mr. Matsumoto was appointed to the newly-created post of Reconstruction Minister last Wednesday by Prime Minister Naoto Kan, and his resignation will bring further pressure on the embattled leader, who is already under fire for his government's response to the triple disasters that struck the region March 11.
On his first trip to the northeast regions worst-hit by the earthquake, tsunami, and nuclear crisis, Matsumoto enraged local politicians and citizens with what was widely perceived to be a condescending attitude and insensitive remarks.
Arriving in Iwate on Sunday, Matsumoto told the prefecture's governor, Takuya Tasso, that the government would, "give aid to those areas that come up with ideas for reconstruction, but not to those that don't have any."
The minister then joked that, "being from Kyushu [Japan's southwestern island] I don't really know which northeastern towns and cities are in which prefecture."
Continuing on to Miyagi, the worst-hit prefecture, Matsumoto was visibly irritated at being made to wait for the local governor, Yoshiro Murai, and refused to shake his hand when he arrived. He then told the governor, "When you have a guest, you should be here first. Got it? As a former Self Defense Force [Japan's Army] man, you should know how to behave toward your superiors."
Matsumoto, himself an ex-Self Defense Force helicopter pilot, went on to tell the attending media, "You lot better not report all this."
---