Fukushima's nuclear cauldron: Retirees who want to go in
Fukushima's radiation has hit deadly levels for the second day, according to Tepco, making efforts to bring the nuclear plant under control difficult. Japan's retired skilled laborers say they are ready to relieve younger workers.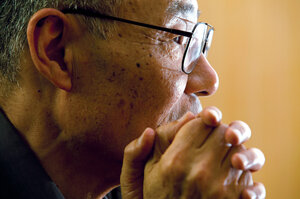 Melanie Stetson Freeman/Staff
Nothing makes Nobuhiro Shiotani angrier than to be called a "kamikaze."
Certainly, the sober and precisely spoken retired scientist does not look like a World War II suicide pilot. And he is insistent that his plan to lead 300 elderly pensioners in a bid to stabilize the crippled Fukushima Daiichi nuclear power plant is motivated not by some mad death wish but by pure rationality.
"Older people taking the risk is much less damaging to our society than asking the younger generation following us to take it," Dr. Shiotani says, adding bluntly, because we are nearer the end of our lives anyway.
Shiotani and an old friend, former plant engineer Yasuteru Yamada, founded the Skilled Veterans Corps (SVC) in April, less than a month after a tsunami overwhelmed the cooling system at Fukushima, causing the world's worst nuclear accident since Chernobyl.
By writing letters and e-mails, using Twitter, and sending out a call to action at various blogs, the two men have drawn more than 300 retired engineers and scientists, ranging in age from 60 to 78, into their group. All are offering to use their skills and experience to help cool the reactors following the partial meltdown at the heavily contaminated site. "To my surprise we've received quite a large number of favorable responses," says Shiotani. "They all say they think it's their duty not to leave this negative heritage to younger generations."
---