Police investigate Australia 'collar bomb' suspect's links to teenage girl's family
According to court documents, Australia 'collar bomb' suspect Paul Peters – arrested in Kentucky Monday – once worked for a company with links to the father of Madeleine Pulver.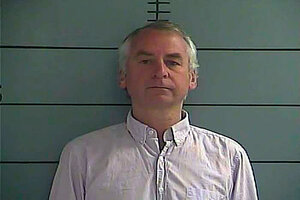 US Department of Justice/Reuters
The arrest in Kentucky this week of an Australian banker suspected of a fake bomb threat against a Australian teenager has been hailed as a breakthrough. But criminologists remain mystified by the case, which they describe as highly unusual in Australia.
Paul Peters is a middle-aged Australian businessman suspected of being the masked intruder who broke into Madeleine Pulver's family home two weeks ago and strapped what he claimed was a bomb to her neck.
Ms. Pulver endured a 10-hour ordeal, which made headlines around the world, before police were able to establish that the "collar bomb" device was a hoax.
An e-mail address on a note hung around Pulver's neck led Australian police to Mr. Peters, who has lived in the United States and still travels there frequently. He was arrested by an FBI SWAT team at his former wife's house outside Louisville, Ky., and now faces extradition to Australia.
Links to Pulver's father
---