North Korea envoy ties food aid to human rights
As North Korea faces ongoing food shortages, the US appears closer to providing food aid amid hopes for movement on six-party nuclear talks.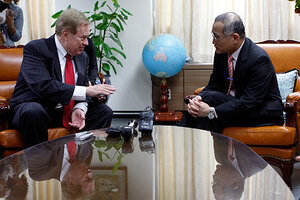 Lee Jin-man/AP
Diplomacy on North Korea's nuclear program is rapidly gaining momentum this week in tandem with debate on resuming food aid for the country's long suffering people.
Robert King, US special envoy for North Korea, arrived here Monday for talks that analysts believe are to persuade reluctant South Korean leaders to go along with food aid to the North. He's tying his mission to the question of North Korea's record on human rights, about which he says the US "remains deeply concerned."
How North Korea responds, Mr. King warns, "will have a significant impact" on US policy vis-à-vis North Korea.
Analysts see King's talks as timed for talks in Beijing between North and South Korea's nuclear negotiators. South Korea's Wi Sung-lac and North Korea's Ri Yong-ho meet Wednesday in a potential breakthrough to resumption of six-party talks on North Korea's nuclear program, last held in Beijing nearly three years ago.
"King wants to provide aid for North Korea," says Choi Jin-wook, long-time North Korea watcher at the Korea Institute for National Unification. The Americans, he says, have been waiting for South Korea to agree to a return to the large-scale shipments of food and fertilizer that South Korea's President Lee Myung-bak halted at the outset of his five-year term in early 2008.
---