Thailand's Lèse-majesté crackdown: Deepening chill on dissent?
Thailand's lèse-majesté laws are already strict, but the case against an online forum moderator who didn't delete royal insults quick enough may indicate further crackdowns to come.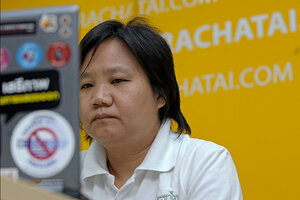 AFP/Newsscom/File
Billboard-size images of Thailand's royal family are draped over court buildings in Bangkok's Ladphrao area, where on Wednesday morning the webmaster of a current affairs website testified on charges of insulting the country's monarch.
The thing is: Chiranuch Premchaiporn did not say or write anything offensive herself. She is accused of failing to delete posts made by others on the Prachatai online forum quickly enough.
Thailand's lèse-majesté laws, which include prohibitions against posting anti-monarchy slurs on the web, are among the world's strictest, meriting jail terms of 3 to 15 years. And Ms. Chiranuch's situation is but one in a spike in these lèse-majesté and related cases in recent years. Although official figures are hard to come by, it is estimated that caseload runs well into the hundreds.
Despite King Bhumibol Adulyadej, the world's longest-reigning monarch, having limited powers in Thailand's parliamentary system of government, lèse-majesté laws have long drawn a veil over criticism of him and his family. The increased number of lèse-majesté accusations comes amid concern that as the reign of the 84-year-old king ends, the country will see an even more severe crackdown, amid ongoing, sometimes deadly, political rivalries.
"Now that we are now in the final phase of the current reign, the law will be used more and more," says Pavin Chachavalpongpun, a Thai academic based in Singapore.
Though it's rare for foreigners to be prosecuted, two Thai-born US citizens have been caught in the dragnet. Joe Gordon was charged with lèse-majesté on Aug. 18, while Anthony Chai is suing the US and Canadian based company Netfirms, alleging it handed information to Thai investigators without his consent, resulting in a lèse-majesté case against him.
---