Standoff over South Korean naval base
Locals say construction of a Navy base on Jeju Island will spoil one of South Korean's environmental gems. South Korean officials say it's a necessary defense against as a rising North Korean threat.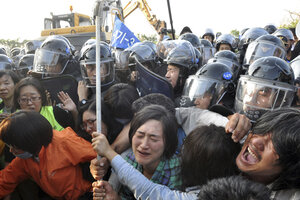 Kim Ho-Cheon/Yonhap/Reuters
Beyond the tall walls protecting the site of a South Korean naval base under construction on this verdant island province, demonstrators protest day and night against what they see as "desecration" of the island's rich heritage.
"We are going to do everything we can to stop it," says Cho Yak-gol, standing in what has become the headquarters tent for protests that ebb and flow depending on the number who show up to protest – anywhere from a few dozen to a few hundred – and their willingness to confront the police. "The villagers have been fighting for four and a half years."
Several million tourists a year flock to Jeju, warm enough year-round for Korea's only palm and tangerine trees but dominated by the country's highest peak, Mount Halla, which rises 6,400 feet above the surrounding seas and is snow-covered half the year. Tour guides, however, don't bring them to Gangjeong village, population 1,500, where the base is being built on the island's rocky southern coast.
"The villagers have opposed the base," says Mr. Cho, an activist from near the Korean capital of Seoul. "Jeju is supposed to be an island of peace."
Protest flags fly from villagers' homes, but they appear vastly outmatched by the determined drive of the government to complete the construction in two or three years as defense against what officials see as a rising North Korean threat.
The defense ministry believes the base is needed in the wake of two bloody episodes last year 200 miles north of here in the Yellow Sea in which a South Korean navy vessel was sunk and an island base shelled with a total loss of 50 lives. South and North Korean nuclear envoys talked Wednesday in Beijing about renewing six-party talks on North Korea's nuclear weapons, but tension remains high while US and South Korean officials agree tough sanctions should stay.
---