Trade deals: South Korea finally wins FTA with the US, but hurdles remain
Trade deals with South Korea, Colombia, and Panama were ratified last night. The FTA with South Korea highlights a key moment in US-Korean relations, but the deal still faces obstacles in South Korea.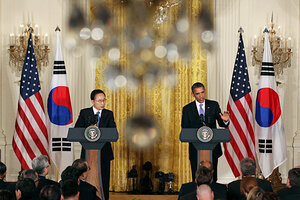 Larry Downing/Reuters
Basking in triumph over the US Congress approval of the Korea-US Free Trade Agreement, President Obama and South Korea's President Lee Myung-bak still face major hurdles before the deal takes effect.
US-Korean relations appear to have reached a pinnacle of understanding and cooperation on issues from trade to defense against North Korea. Nonetheless Mr. Lee's foes in Seoul are digging in against quick approval by South Korea's often obstreperous national assembly.
"US ratification of the FTA may be a mixed blessing for President Lee," wrote Edward Reed of the Asia Foundation in Seoul. "The opposition party and civil society are already mobilizing to call for renegotiation or rejection of the pact."
There's no denying, however, the joy of a wide range of observers on both sides of the Pacific.
Trade groups ecstatic
Korea's two most powerful trade groups, the Korea Chamber of Commerce and Industry and the Federation of Korean Industries, say ratification of the FTA by the legislative bodies of both countries would "be a boon to exports that have been the main engine of economic growth" and "raise competitiveness of locally made automobiles, car parts, textiles, and electronics."
---