In defiant gesture, Chinese surge forward to help Ai Weiwei pay tax bill
Donations have poured in from thousands of donors since Chinese authorities slapped dissident Ai Weiwei with a $2.4 million tax bill this week. 'China is really hopeful,' Mr. Ai said in an interview.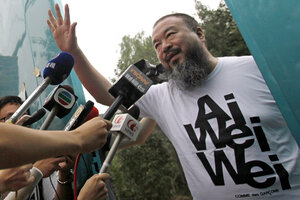 Ng Han Guan/AP/File
Thousands of individual donors swamped dissident Chinese artist Ai Weiwei's Internet account Friday, offering to help him pay a $2.4 million tax bill he was handed earlier this week, in a striking show of defiance against the government.

"It's amazing," Mr. Ai said in an interview. "This has become a big movement."

More than 1,600 supporters had pledged or paid more than 400,000 RMB ($63,500) by mid-afternoon on Friday, just a few hours after the wave of donations began to surge, the artist said.
Ai, an outspoken critic of the government who was detained last April and held in solitary confinement for 81 days, said on Tuesday that the authorities had presented him with a $2.4 million tax bill, charging him with tax evasion in the past.

Ai says the allegations are cover for political persecution, and argues that he is not the legal owner of Beijing Fake Cultural Development, which makes most of his work. His wife, Lu Qing, is the owner.

The online public subscription drive began earlier this week, when several prominent supporters of Ai's proposed the idea. It appears to have really taken off since Hu Jia, a well known human rights activist who was released in June after a 40-month sentence for "inciting subversion of state power," announced on his Twitter account on Thursday that he had donated 1,000 RMB ($158) to Ai.

"He wanted to express his gratitude and respect for what Ai has done," explained Mr. Hu's wife, Zeng Jinyan, in an interview.

Ai said he had not solicited donations from the public, but that "when they started coming in, we had to either tell people to stop or that we would be happy to borrow the money." He decided on the latter course of action, he said "even though lots of people have said they do not want to be repaid."
---
Follow Stories Like This
Get the Monitor stories you care about delivered to your inbox.