South Korea approves free trade agreement with US despite deep divisions
South Korea's National Assembly gave the final nod Tuesday to a controversial US free trade agreement that is expected to boost bilateral trade of $88 billion last year.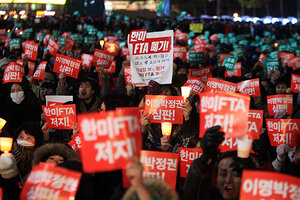 Ahn Young-joon/AP
South Korea opened a new era today of trade with the United States – and protest by liberals and leftists – with approval of a controversial Korea-US Free Trade Agreement by a bitterly divided National Assembly.
The deep disagreements between ruling conservatives and firebrand foes of the government were evident in the contrasting responses of South Korea' s President Lee Myung-bak and the leader of the main opposition party after the conservatives suddenly forced approval of the deal in Tuesday's surprise vote.
President Lee hailed the agreement as a chance for "moving one step ahead" of competitors. "If we seize this opportunity and unite our strength," he said, South Korea can "make a leap" over other countries despite the global economic crisis.
Opposition political leaders, looking ahead to National Assembly elections in April and the election of a new president in December 2012, vowed to fight to kill the agreement, which takes effect on Jan. 1. The conservative Grand National Party, which has 169 of the assembly's 299 seats, called a snap vote on the FTA after its foes had blocked the vote and rejected President Lee's personal appeal in a meeting at the assembly.
The showdown in the assembly dramatized deep fissures in South Korean society in an atmosphere in which the wealthy chaebol, or conglomerates, that control the economy have been steadily growing, while millions of people complain of worsening economic realities, including rising unemployment among young people.
---