North Korea quickly names 'great successor' after Kim Jong-il's death
North Korea is unlikely to act erratically following the death of Kim Jong-il. All eyes are on heir Kim Jong-un, whose youth and inexperience mean elder statesmen are likely to guide the transition.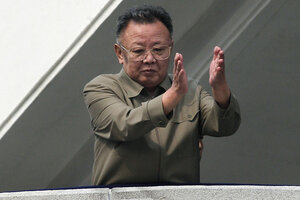 Vincent Yu/AP/File
South Korea put its troops on alert and Asian stock markets fell on Monday in signs of concern that the sudden death of North Korean leader Kim Jong-il could spark instability in his secretive, nuclear-armed nation and beyond.
Most North Korea-watchers, though, predicted that a dynastic handover of power to Mr. Kim's youngest son, Kim Jong-un, would lead to few surprises. The younger Kim was quickly named the "Great Successor" to his father, the "Dear Leader," by Pyongyang's official news agency, keeping power in Kim family hands for a third generation.
Though Kim Jong-un, believed to be in his late 20s, is thought to have been educated in Switzerland, which might have given him a broader perspective than his father or grandfather enjoyed, "in the immediate future there will probably be no change," says David Kang, head of Korean Studies at the University of Southern California.
The new leader "will keep his head down for the next couple of years and the government will still be run by elder statesmen," Professor Kang says.
---