After Kim Jong-il funeral: collapse or continuity for North Korea?
As North Korea mourns during Kim Jong-il's funeral, South Koreans are reminded of the dangers of their unstable and poor sibling nation.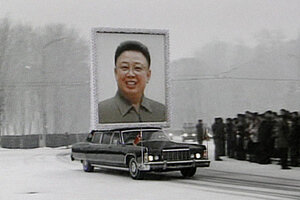 KRT via APTN/AP
About 200,000 North Koreans bade a tearful farewell today to "Dear Leader" Kim Jong-il in a three-hour funeral procession in Pyongyang that made one point clear: North Korean strategists want the world to know that third son Kim Jong-un is their new leader.
While crowds wept and wailed to the stentorian sounds of funeral music, Kim Jong-un, wearing a long black coat, trudged in snow under gray skies on the right side of the hearse bearing the flag-draped coffin of his father on the roof.
That image provides compelling visual evidence of the rapid ascent of Kim Jong-un, still in his late 20s, to the top of the North Korean hierarchy. Regardless of how much power he really wields among the other top leaders – also walking beside the hearse – he will hold the country's highest military and party titles.
Now the question is whether he can endure the advice of his uncle Jang Song-thaek, right behind him in the funeral cortege. The corollary question is whether North Korea will collapse under the weight of the hunger, poverty, and disease afflicting the vast majority of citizens outside the ruling elite and military establishment of some 1.1 million troops, believed to be the world's fourth or fifth largest.
As far as people here are concerned, stability would be the best outcome for North Korea – though few might be able to predict the long-range future of a country that's increasingly dependent on China, its Korean War ally, for fuel, food, military support and much else needed to survive.
---