Conflicting signals on reform in Burma (Myanmar)
Aung San Suu Kyi is cautiously optimistic about the future of Burma (Myanmar) as the government approved her party to run in upcoming by-elections.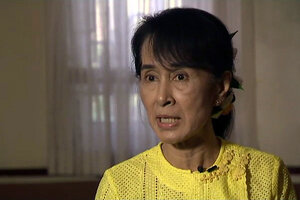 AP Photo via APTN
Burma's opposition leader Aung San Suu Kyi says she believes that her country will hold full democratic elections in her lifetime, a good sign for the country, which has long been notorious for its oppressive military rule.
Ms. Suu Kyi's remarks came on the heels of three high profile visits to Burma (Myanmar): Both Hillary Clinton and billionaire businessman George Soros, longtime funder of exiled opposition groups, made the trip last month, and Britain's Foreign Secretary William Hague arrived in Burma earlier today.
In yet another positive nod to reforms in Burma, the government approved Suu Kyi's National League for Democracy to run in April by-elections for the country's parliament, and a presidential adviser said that the she could one day lead the country where she spent 15 years under arrest.
Though Suu Kyi she said she was optimistic about Burma's future, the Nobel Peace Laureate quickly cautioned the West to not get too excited, pointing out that the democratic reforms could still be blocked by Burma's Army.
"I trust the president but I can't say I trust the government for the simple reason that I don't know everyone in the government," Suu Kyi told the BBC.
---