As Tibetan New Year approaches, China tightens grip
A senior Chinese official has ordered tighter security in Tibetan Buddhist monasteries and on main roads following deadly protests in Tibetan-inhabited Sichuan province.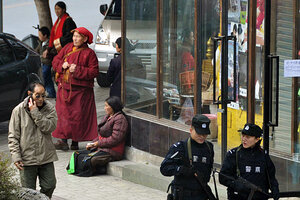 Kyodo News/AP
The Chinese authorities in Tibet are stepping up security to contain a wave of ethnic unrest ahead of a sensitive few weeks in the Tibetan calendar that could test Beijing's control of the region.
Security forces in predominantly Tibetan areas of the neighboring province of Sichuan are on heightened alert after days of unrest last week that left six Tibetans dead and scores wounded, according to exile groups. Beijing has acknowledged two deaths, blaming the violence on "mobs" attacking police stations.
The deputy Communist Party secretary in Tibet, Wu Yingjie, visiting the town of Nagqu, 150 miles north of the capital Lhasa, warned police to "be on the alert" since "the fight against separatism is very tough," according to Tuesday's edition of the Tibet Daily.
The Communist Party chief in Lhasa, Qi Zhala, meanwhile, inspected two Buddhist monasteries and urged clerics and officials to "strive to achieve the goal of no big incidents, no medium incidents, and no small incidents," the paper reported.
Journalists have been turned back from areas of reported unrest by the police, who have kept the region under lockdown, and have been unable to confirm events.
Simmering ethnic tensions are traditionally higher at this time of year, as Tibetans prepare both to mark their new year, which this year falls on Feb. 22, and to commemorate previous March uprisings, especially the one in 1959 that led to the Dalai Lama's flight into exile.
Last week's violence was the worst since Tibetan unrest in March 2008 left 22 people dead.
---