Why Chinese workers are getting kidnapped abroad
Kidnapped Chinese workers were freed today in Egypt, but as more Chinese workers become easy targets abroad, citizens back home are calling for action.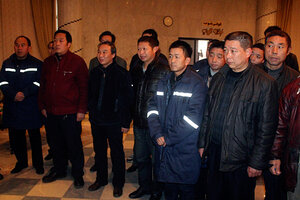 Reuters
More than 50 Chinese workers were seized in two separate incidents in Sudan and Egypt in the past four days, forcing the Chinese government to consider the human cost of its drive for greater global presence and influence.
Twenty-four cement workers kidnapped by Bedouin tribesmen in Sinai, Egypt, were freed on Tuesday night, but the fate of 29 road builders captured by rebels in the troubled region of South Kordofan in Sudan remains unknown.
"Chinese companies go to these dangerous countries without evaluating regional instability and volatile situations," says Shen Dingli, a professor of international relations at Fudan University in Shanghai. "Now we are meeting trouble: This is a big lesson."
The number of Chinese workers abroad has skyrocketed in recent years, as Beijing seeks natural resources to fuel its economic growth and state owned companies win more contracts to build roads and railways, dig mines and set up telecom networks in Africa, Asia, and Latin America.
Chinese companies employed 812,000 Chinese workers abroad at the end of 2011, according to Commerce Ministry figures.
This week's kidnappings were only the most recent in a string of such incidents. A list compiled Wednesday by the business magazine Caixin recalled 13 hostage-taking attacks involving over 100 Chinese citizens in 10 countries over the past 5 years. Fourteen of the victims died.
---