How Japan, US may break 18-year deadlock over Okinawa base
Japan and the US agreed this week to relocate thousands of Marines from Okinawa. But the issue of what to do with Futenma airbase remains.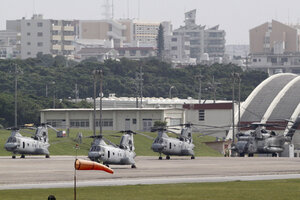 Toru Hanai/REUTERS/File
This week's US-Japanese agreement removing thousands of Marines from Okinawa breaks an 18-year deadlock over the realignment of US forces in Japan by a simple expedient: sidestepping the key obstacle that has bedeviled the issue.
Both sides take something from the deal, announced Wednesday, which decouples the transfer of the Marines from Okinawa to Guam from the difficult question of relocating a controversial US airbase on the Japanese island.
Washington can get on with the reorganization of its military forces in the region as part of the "Pacific pivot" that President Obama announced last year, focusing US capabilities on East Asia. Tokyo can portray the departure of 8,000 Marines as progress to Okinawans who have long demanded a reduction in the number of American troops stationed on their island.
Okinawa plays reluctant host to nearly half of the 50,000 US troops stationed in Japan, including 18,000 Marines.
But though the agreement marks "movement in some direction," it represents "only symbolic progress," says Masaru Kohno, a politics professor at Waseda University in Tokyo.
The deal does not close the Futenma Marine airbase in the middle of Ginowa City, which residents complain is noisy and dangerous, and which successive Japanese governments have promised – and failed – to shutter.
Nor does it change longstanding plans to relocate the Futenma base to the less populated seaside village of Henoko, which Okinawa's provincial governor has rejected and blocked for the past six years on environmental grounds.
---