North Korea and US talk for first time since Kim Jong-il's death
Talks today between North Korea and the US could provide insight to whether North Korea's new government is ready for change.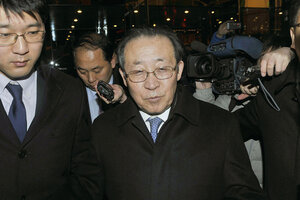 Kyodo/REUTERS
The US and North Korea entered a new round of exploratory talks Thursday in Beijing amid flickering hopes that they would lead at long last to six-party talks on North Korea's nuclear program.
As Glyn Davies, the new US envoy to North Korea, sat down with his highly experienced counterpart, Kim Kye-gwan, a basic question was how or whether North Korean policy has changed since the death in December of North Korea's longtime leader, Kim Jong-il.
Mr. Davies entered the talks saying it was a "positive sign" and "a good thing" that North Korea wanted the talks so soon after the transition from Kim Jong-il to his son, Kim Jong-un.
Analysts see the meetings as a tug-of-war. North Korea wants to get the dialogue moving again in order to secure the food that it desperately needs as its stocks run low during the long, harsh winter months. The US has the opportunity to push North Korea toward giving up its nuclear program by holding out on food aid until it sees progress.
"Kim Kye-gwan is eager to make a breakthrough," says Choi Jin-wook, North Korea expert at the Korea Institute of National Unification. "He initiated the talks."
Mr. Choi doubts the US is going to consider North Korea's anxiety about food unless,or until, North Korea makes a significant concession on its nuclear program. After Kim Jong-il's death, North Korea's state media hailed the program as Kim Jong-il's "greatest legacy" and the government has shown no signs of willingness to abandon it.
"The positions of the US and North Korea are quite different," Choi says, though "six-party talks are still possible."
---