China PM Wen Jiabao says political reform 'urgent'
At the end of China's ritualistic annual parliament session, Prime Minister Wen Jiabao went further than ever before in urging 'reform of the leadership system of our party and country.'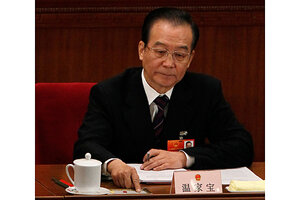 Ng Han Guan/AP
Chinese Prime Minister Wen Jiabao issued a strong call for political reform Wednesday, warning that unless the ruling Communist Party changes, China may lose its economic gains and fall back into political turmoil.
In his swansong press conference at the end of China's ritualistic annual parliament session, Mr. Wen went further than he had ever done before in urging "reform of the leadership system of our party and country," pressing a case that has so far appeared to gain little traction among his fellow leaders.
"Reform is at a critical stage," Wen declared, and unless it moves forward "such historical tragedies as the Cultural Revolution may happen again.
"New problems arise, including income disparity, lack of credibility and corruption, and to resolve these problems requires economic reform and political reform," he insisted. "This is an urgent task."
Wen has made a name for himself as a would-be reformer and has spoken before about the need for political reforms to promote what he called "socialist democracy." With one year left in office, says Beijing-based political analyst Russell Leigh Moses, "it is clear that he is unwilling to leave the table without putting political reform onto it."
Whether he will be successful, as a new generation of leaders prepare to take the reins in China at next autumn's Communist Party congress, is unclear, says Dr. Moses. "At the moment there is very little evidence to suggest that the issue is on the table front and center," he says.
---