How failed North Korea rocket could lead to a fresh nuclear test
The UN Security Council is likely to rap North Korea for its rocket launch, and a defiant North Korea could respond with a nuclear test – following a pattern that has played out before.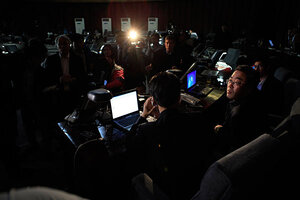 Ng Han Guan/AP
North Korea's vaunted long-range Unha 3 rocket roared off its launch pad early Friday, broke into several pieces and plunged into the Yellow Sea between South Korea and China slightly more than one minute later, South Korean defense officials said.
The failure of the rocket, which North Korea said would put a weather satellite into orbit, comes as a huge embarrassment for North Korea during the buildup for massive celebrations Sunday marking the 100th anniversary of the birth of the North's founding "Great Leader" Kim Il-sung.
North Korean officials had no immediate comment for the foreign journalists invited to Pyongyang for the launch, while North Korean TV broadcast video footage of scenes from the life of Kim Il-sung, who led the country for nearly 50 years before dying in 1994.
In the face of a public-relations dilemma, however, North Korea was not expected to let the failure interfere with Sunday's birthday bash, much less to acknowledge failure.
"They will propagandize it as scientific achievement," predicts Kim Tae-woo, a long-time defense analyst and president of the Korea Institute for National Unification. "They will say it has been successful. It is propaganda for their own people."
---