As US and Vietnam get closer, human rights concerns grow
Ties between the US and Vietnam are good, but Vietnam's human rights record has activists asking if Washington is pushing Hanoi enough on political, economic, and free speech reforms.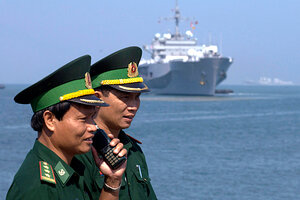 Mass Communication Specialist Chief Rodney Furry/U.S. Navy/AP
Five days of joint US-Vietnam naval exercises that started Monday in Vietnam are the latest signals of growing cooperation between the one-time enemies.
The training is prompted by common concerns about the resource-rich South China Sea, where six countries have claims and where China has recently clashed with Vietnam and the Philippines.
But as the US and Vietnam get close, Vietnam's human rights record is raising questions among activists regarding whether the US is sufficiently vocal about political, economic, and free speech violations in Vietnam, a one-party state ruled by the Communist Party where all other political parties are banned.
Deputy Asia Director at Human Rights Watch Phil Robertson says, "There is a real need for sustained US pressure on Vietnam to free political prisoners, respect freedom of expression and the vibrant blogosphere that is making Vietnam one of the fast growing users of the Internet in South East Asia, and repeal repressive laws that Hanoi uses to quash individuals and groups that the government doesn't like."
Vietnam has a spotty record of human rights violations, according to Human Rights Watch, which accused the government of systematically suppressing freedom of expression, association, and of peaceful assembly.
---