Taiwan set for Chinese invasion - of investors
Taiwan's economy is poised grow significantly this year as the island relaxes barriers to investment from its old rival, mainland China.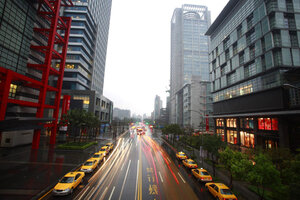 Nicky Loh/REUTERS/File
Taiwan's economy, the world's 19th largest, is poised to grow significantly this year as officials open pipelines to new investment from China, capitalizing on an old political foe that has recently agreed to talk business.
Economic planners on the manufacturing-intensive island raised stock market investment caps on certain high-tech firms last month. They said they would later increase the 247 categories of business that are open to Chinese foreign direct investment (FDI), meaning they can pay directly into a Taiwanese company in exchange for a portion of any profits.
Going a step further, Taiwan's top China policymaker, Lai Shin-yuan, says the government is studying when to let China's wealthy investors pursue mergers and acquisitions (M&As). And Chinese investors may one day find it easier to buy real estate in Taiwan, provided they need the property for routine business, not speculation.
The taps are expected to begin flowing from June after the two sides sign agreements offering first-ever legal protections to each other's investors. The opening marks a major diplomatic embrace for the two rivals, a relationship long seen as a dangerous flashpoint in Asia.
"The signing of the [accord] will be the first step. After that we will see a progressive lifting of investment caps," says Wai Ho Leong, regional economist with Barclays Capital in Singapore. "My sense is that this will unlock M&A flows from China into Taiwan and, along with it, also substantial amounts of FDI flows."
Independence talk dulled trade
Before 2008, presidents in self-ruled Taiwan advocated the island's formal independence from China, enraging the communist leadership and making trade or investment deals all but impossible. China has claimed sovereignty over Taiwan since the Chinese civil war of the 1940s and wants eventual reunification.
---