Is Myanmar about to rejoin the world?
One of the three most closed and isolated countries in the world is opening up. The long-repressed Burmese say it's unbelievable - but they want to believe in a new Myanmar.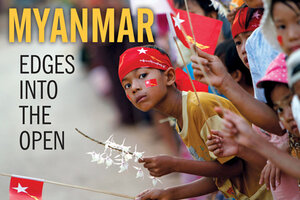 AP Photo
Soon after dawn one recent morning, before the full force of Myanmar's oppressive heat had gathered, a slim young woman in a white blouse and a long green wrap-around skirt stood outside a factory gate on a tree-lined, potholed avenue on the outskirts of Yangon and surveyed the crowd of several hundred women like her squatting or sitting in the dust at her feet.
Moe Wai was doing something that had been unthinkable since the military seized power in a coup a half century ago in what was then called Burma (the military government changed the name of the country to Myanmar in 1989); she was organizing an independent trade union.
She spoke simply to the women and girls who listened silently, all workers at Tai Yi, a ­Taiwanese-owned footwear manufacturer where they earn about $3.50 a day, including overtime. "An organization would be more effective than individuals when it comes to making our demands," she explained.
Little more than a year ago, that kind of talk might have earned Ms. Moe Wai a long jail sentence. Today, however, the right to organize a union is enshrined in a new labor law, one of a slew of liberalizing reforms that Myanmar's nominally civilian government has enacted or planned since it took office in March 2011.
The new government, dominated by President Thein Sein and other former generals, has freed several hundred political prisoners (though many are still behind bars), relaxed censorship (though not abolished it), and held parliamentary by-elections earlier this month that pro-democracy icon Aung San Suu Kyi swept in a landslide victory.
Where these changes are leading, and how lasting they will be, nobody is quite sure. Many, like Dhin Dhin Mar who cuts leather at Tai Yi, are reserving judgment. "We'll see how much use this union is when we hear what's happened to our wages," she says.
---