The difficulty of supporting activists such as Chen Guangchen in China
Being a qualified lawyer gives lawyers who support activists such as Chen Guangchen a measure of protection, but they are still vulnerable to all kinds of official pressure.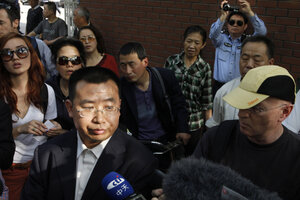 Ng Han Guan/AP
When Jiang Tianyong, a well-known human rights lawyer, went to visit his friend Chen Guangcheng, the blind legal activist, soon after he had emerged from the US embassy, he got no farther than the hospital gates.
Police dragged him away, took him to a police station, beat him about the head so badly that he lost hearing in one ear, and finally released him in the early morning.
Mr. Jiang wasn't even working.
Lawyer Jiang has suffered worse than that in official retribution for representing clients who have drawn the government's ire, including members of the banned Falun Gong sect, Tibetans, and Mr. Chen himself.
Last year, as authorities cracked down on lawyers here in the wake of the Arab Spring, Jiang "disappeared" for two months. He was "taken to some secret places, beaten, criticized, and brainwashed" by Beijing police officers, he recalls.
Landlords have bowed to official pressure and evicted him five times from different homes, Jiang says. He has been subjected to several periods of house arrest; his wife and children have been harassed; guards have sealed his front door shut; and once, in a particularly petty act, they locked his wife's bicycle, he says.
And he lost his license to practice law in 2009.
"Human rights lawyers face a perilous life in China," says John Kamm, a human rights activist who heads the San Francisco-based group Duihua, which works on behalf of political prisoners in China. "They face many barriers."
When lawyers are beaten, "disappeared," or jailed, their plight generally attracts wide attention. Far more often, though, says Wang Songlian, a researcher with the Hong Kong-based China Human Rights Defenders, it is "unqualified" legal advocates – such as Chen – who are abused for taking cases the government regards as sensitive. "There are probably dozens of them in jail, most of whom are not well known," she says.
---