A decade after independence, East Timor's surprising best friend? Indonesia.
Ten years ago, East Timor was reeling from Indonesia's scorched-earth withdrawal after two-plus decades of occupation. Today it sees its huge neighbor as a crucial partner.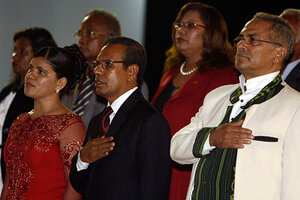 Lirio Da Fonseca/Reuters
Last weekend, a number of uniformed Indonesian military officers were lounging about the Dili Beach Hotel drinking coffee, laughing, and shooting pool.
That would have been a shocking sight a decade ago, when tiny East Timor (Timor-Leste) was still crawling out of the ashes of a scorched-earth withdrawal by Indonesian forces after a 24-year military occupation.
But now, Indonesians are practically everywhere you look in East Timor, never more so than this past weekend, when the soldiers were just the advance team for the star of the show: A beaming Indonesian President Susilo Bambang Yudhoyono, who attended the country's 10-year independence anniversary as a guest of new President Taur Matan Ruak.
As Asia's youngest and poorest state enters a new era, it's doing so with its old foe Indonesia as a crucial partner – a once unthinkable proposition after the war crimes committed in 1999. But what was once unthinkable is now a necessity, and no one knows that more than President Ruak, a former guerrilla commander whose forces were once hunted by a younger Yudhoyono, when he was a battalion commander here.
Indonesia is home to 240 million people and continues to hold the western half of Timor Island. For East Timor's 1 million people, it is both a potential source of capital, expertise, diplomatic assistance – and trouble, as the recent past makes all too clear.
Trouble is the last thing East Timor wants again. East Timor has occasionally tottered in the 13 years since its independence referendum and the 10 since the UN, which administered the country in its most ambitious nation-building effort, returned full sovereignty. In the years after the referendum, Indonesia permitted cross-border raids by militias. In 2006, a civil war was averted by the return of Australian troops and a new UN peacekeeping mission.
---