Double the sales tax? Japanese see hit to wallets, little impact on national debt
Japan's lower house of parliament voted today to double the sales tax. The bill still has to pass the upper house, and many question if it can make a significant dent in Japan's massive public debt.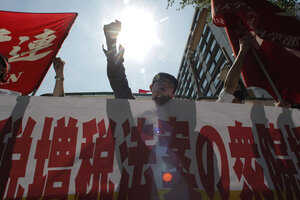 Itsuo Inouye/AP
Japan's lower house of parliament today passed a controversial bill to double the consumption tax to 10 percent. The move comes as the country grapples to rein in its public debt, set to hit one quadrillion – 1,000 trillion – yen ($12.6 trillion) this fiscal year.
The bill, which still has to make its way through the upper house, will increase the sales tax to 8 percent in 2014 and 10 percent in 2015. Some are concerned that the tax increase could dampen already fragile consumption in the world's third-largest economy, and that it won't raise enough money to make a significant dent in the growing debt mountain.
"Everybody knows a debt crisis is coming," says Martin Schulz, senior economist at the Fujitsu Research Institute in Tokyo, "most people in Japan are simply closing their eyes to it."
After months of political wrangling, the bill was approved by a resounding 363 to 96 votes, with the support of the two main opposition parties.
"We have taken a big first step toward reform, both for the sake of present-day Japanese and for future generations," Prime Minister Yoshihiro Noda told reporters after the vote.
However, 57 members of the ruling Democratic Party of Japan, led by powerbroker Ichiro Ozawa, voted against the government. This raises the prospect of a mass defection that could rob Mr. Noda of his parliamentary majority.
How high of a deficit can one country sustain?
---