China flooding: Death tally rises, Beijing credibility plummets
With an estimated 538 million Internet users in China, the Chinese Communist Party is finding its propaganda apparatus tested by a public flurry of fact and rumor alike.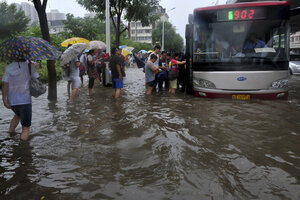 AP
It took just one glance at a jumble of cars mired in the brown waters covering the G4 expressway late on Monday afternoon to cast doubt on Chinese government estimates that only 37 had died in flash flooding over the weekend.
A casual count of one patch of road came up with 33 vehicles – buses and taxis, and cars thrown on top of each other and over highway railings. Most passengers may have escaped, but many in the crowd of onlookers voiced something between quiet skepticism and open derision that the official numbers were true.
"They must hide this," said one old man who was hustled away from a perch overlooking the scene by uniformed police yelling that photography in the area needed prior consent. With plainclothes security milling around the area, he and other onlookers didn't give their names.
The man said that he'd already heard how many were killed in Fangshan, a district roughly 20 miles southwest of downtown Beijing, after heavy rains on Saturday night: "More than 300."
Not long ago, such grumbling would have stayed among locals, something to mull over with family at the dinner table. With an estimated 538 million Internet users in China today, however, the Chinese Communist Party is increasingly finding its propaganda apparatuses, designed for top-down messaging, tested by a very public flurry of fact and rumor alike.
On Sina Weibo, a popular micro-blog site akin to Twitter, those scrolling through photographs of the aftermath of the deluge banged out angry questions: Has more humble sewage infrastructure in the capital and surrounding areas been overshadowed by flashy, tall buildings and the money they bring? Did the government pursue rapid growth at the cost of safety? Are the common people being shunted aside by the ambitions of the rich?
---