UN envoy visits Myanmar as ethnic clashes test reforms
UN envoy Tomas Ojea Quintana is visiting Myanmar in the wake of recent fighting between Buddhist Rakhines and minority Muslims. Some accuse the government of fanning tensions.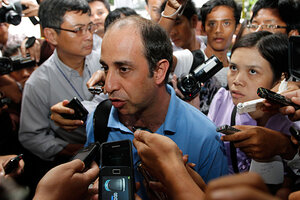 Khin Maung Win/AP
As a UN human rights envoy visits the troubled western Myanmar state of Rakhine, recent ethnic fighting there and the government's response to it could raise doubts about the recent relaxation of Western economic sanctions.
Tomas Ojea Quintana is spending today and tomorrow in the area as part of a fact-finding visit to assess reforms that have seen the restoration of full diplomatic relations between the US and Myanmar. But overshadowing those changes is recent mob fighting between the Buddhist Rakhine and Muslims Rohingyas in the northern part of Rakhine state that has led to accusations of discriminatory action against Muslims by the government.
June clashes displaced some 80,000 people and left 78 dead, according to government figures, and prompted President Thein Sein to declare a state of emergency in the region. Subsequently, he floated the idea of a mass deportation of 800,000 or so Muslim Rohingyas.
The UN refugee agency dismissed that proposal. UNHCR spokesperson Vivian Tan says that of the 80,000 people displaced by the fighting, around 50,000 are Muslim and 30,000 are Rakhine. "The situation on the ground is tense but calm," she says, adding that "some of the Rakhine displaced have started to return to their homes in recent days."
International human rights groups have long said that Myanmar discriminates against the Rohingya, who are neither recognized as an ethnic minority by the government nor allowed citizenship under a 1982 law. Even opposition leader Aung San Suu Kyi said during a June visit to Europe that she did not know if Rohingya – who are often described as Bengalis by other Burmese – were entitled to Myanmar citizenship.
---