Inside North Korea, more cellphones and traffic lights, but real change lags
A visitor to North Korea finds more signs of modernization in Pyongyang as Kim Jong-un consolidates power. But it's hard to tell if reform is afoot in a country that remains deeply impoverished and isolated.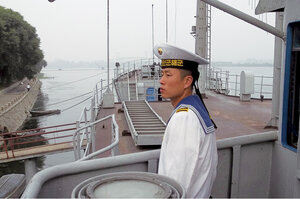 Don Kirk
A sense of incipient change is in the air here as North Korea's traditional rhetoric about nuclear war contrasts with signs of a desire to reform a society that remains dangerously impoverished, underfed, and undeveloped.
True, over the past few years, Pyongyang has shown signs of modernizing: Eight or nine glistening high-rise apartment buildings form a new skyline in the heart of the capital, and a concert hall opened last month featuring the Pyongyang Symphony Orchestra performing compositions in praise of new leader Kim Jong-un; his grandfather, Kim Il-sung; and his father, Kim Jong-il. Traffic lights are replacing the legendary traffic ladies at key intersections, and taxis with checker designs on the front doors line up outside hotels and restaurants.
Together with visits from high-profile foreigners, the impression is that of a gradual opening, at least for a sliver of the city's elite.
Such signs, however, belie a longstanding commitment to the policy of juche, meaning self-reliance, and, more important, songun, or "military first." The result has been the deification of the Kim dynasty in a system in which the military has held sway while the economy has plunged ever deeper into an abyss of widespread hunger, disease, and neglect.
---