In Japan, better with age
A Japanese metal molding company values and cultivates an older workforce.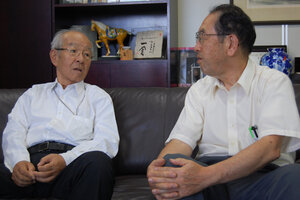 Takehiko Kambayashi
When Hideo Arai was hospitalized with a stomach ailment, his boss wrote him a note, urging the worker to come back as soon as possible.
"The company has fallen into chaos since you were absent," the letter said. "Unlike other companies, I will never let you go."
Not a bad get-well card to receive from your employer. Only in this case it was more than that: The note was handwritten – and it came from the company president himself, Motoo Matsuura. Mr. Arai, then 59, was thinking of retiring because of his health.
"I was really grateful for him," says Arai, who's still at the firm.
Juken Kogyo, a precision metal-molding company founded by Mr. Matsuura in the industrial city of Toyohashi, is a rarity even in Japan. In a society that often values older people, Matsuura has gone out of his way to create an environment that appreciates what senior workers have to give. It's the compassionate thing to do – and just good business.
"That is because companies see them [older workers] as costs, but I see them as valuable assets," says Matsuura.
More Japanese companies may want to start thinking like Matsuura. The country faces one of the most rapidly graying populations in the world. In 2011, people age 65 and over made up 23.3 percent of the population. The ratio is projected to reach 31.6 percent by 2030 and 38.8 percent by 2050, government figures show. By contrast, in the United States, which faces its own aging demographic, the ratio is expected to hit 19.9 percent by 2030 and 21.2 percent by 2050.
Japan is taking steps to encourage more senior employment. It has been gradually raising the pension eligibility age from 60 to 65, and corporations are now obliged to allow their employees to work until 65.
---