What happens when you graduate in Hong Kong - and can't speak Chinese?
When Hong Kong reverted to Chinese sovereignty in 1997, the government decreed that students be taught in Chinese, not English. But thousands of minorities were suddenly left in the lurch, say activists.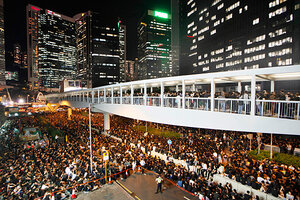 Kin Cheung/AP
Hong Kong bills itself as one of Asia's most diverse cities and is home to a sizable population of non-ethnic Chinese minorities, but many of them educated at local public schools are unable to read and speak Chinese.
In the 15 years since reverting to Chinese sovereignty, South Asian students here have been given the short end of the stick by the city's public education system, activists say, charging that segregation and poor schooling options are keeping these students from getting ahead.
Shortly after one-and-a-half centuries of British colonial rule ended in 1997, the local government decreed that students be taught in Cantonese instead of English. This abrupt switch has since cost tens of thousands of Chinese-illiterate minority students not just their place in mainstream public schools, but also a fair shake in society, say their parents and advocates.
"The current education policies may have a disproportionate, negative impact on certain ethnic groups in Hong Kong," says Kelley Loper, a University of Hong Kong assistant law professor who directs its human rights program and has researched education issues facing ethnic minorities.
The story of Roy Umar Aftab, a Hong Kong-born Pakistani, is echoed across the city. By the time he was seven, Mr. Aftab says he had been turned away from so many local Chinese schools that he had no choice but to enroll in one of the city's "designated schools" for minorities, where classes are taught in English and student bodies are overwhelmingly South Asians.
Like Aftab, most Hong Kong-born children of Indian, Nepalese, and Pakistani descent have been relegated to segregated schools. They are often not taught adequate Chinese to secure a foothold in the city's ever-more sinicized economy. Back when Hong Kong was a British colony, South Asians could compete for both private sector and government jobs with only English; now they are all but shut out unless they read and write Chinese proficiently.
---