Could Myanmar's economic reform bring business to war-torn ethnic regions?
Myanmar has passed a new foreign direct investment law. Now a cease-fire in the country's war-torn Karen state has some entrepreneurs hoping to attract foreign investment.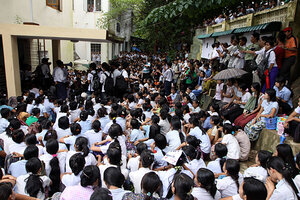 Khin Maung Win/AP
On the heels of recent reforms in Myanmar, aspiring entrepreneur Shar Phaung established Shar Mu Lar Mining Co. just two months ago, sensing economic opportunity in a war-torn state close to the Thailand-Myanmar border.
The Karen National Union (KNU) has fought the Myanmar government in the Karen state, where Mr. Shar Phaung lives, since the late 1940s. The on-again, off-again jungle conflict has driven hundreds of thousands of people from their homes, left thousands killed or maimed, and made it a struggle for families to make ends meet.
Now a cease-fire has been coupled with Myanmar President Thein Sein's pledge to prioritize economic reform one of Asia's poorest countries. The government and the KNU met last week in the latest round of peace talks, discussing troop positions.
"Overall we can say things are improving as this is the third time the government and KNU meet, and publicly the government praises the KNU," says Susanna Hla Hla Soe of the Karen Women's Action Group, an observer at last weeks' negotiations here in Hpa'an.
The lull in fighting means that even in this ramshackle riverside town of around 50,000, a six-hour drive from Yangon, entrepreneurs such as Mr. Shar Phaung now see business opportunities.
"The KNU and the government have the cease-fire so we can go to the places like Kyaiseikgyi near the Thailand-Myanmar border, where there is the antimony," he says, referring to a potentially lucrative element mostly used in batteries and flame retardants.
---