Nuclear deal? New North Korea and Iran pact raises international concern
North Korea and Iran appear to be deepening their nuclear technology relationship under a new agreement reached between the two nations that President Bush labelled part of an 'axis of evil.'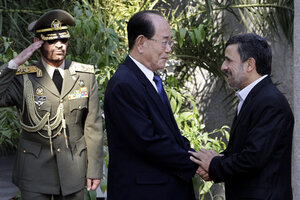 Vahid Salemi/AP
North Korea and Iran appear to be increasing their dealings in nuclear technology and missiles with each other under a breakthrough agreement reached between the two nations in Tehran three weeks ago.
"It's likely the tempo of shipments of technology to Iran has increased," says Bruce Bechtol, a former US intelligence official and author of two books and other studies on North Korea's military buildup. "We have seen a large number of North Korean scientists visiting Iran."
Concerns about the nature of North Korea's exchanges with Iran have risen since Iran's science and technology minister, Farhad Daneshjoo, and North Korea's foreign minister, Pak Ui-chun, signed the deal to cooperate on science and technology after a summit of "nonaligned nations" held in Tehran in late August.
North Korea and Iran have been cooperating for years but never previously had a framework agreement that confirmed their longstanding relationship and also made clear their desire to build on it. The timing of the deal is significant, since Israel has been pressing for concerted action against Iran's nuclear program while North Korea, under new leader Kim Jong-un, has been coming out with harsh denunciations of South Korean policies.
---