Security threat? China lashes out at US report on telecom firm Huawei
A congressional report urging US companies to stop doing business with Chinese telecom equipment makers Huawei and ZTE has triggered a backlash in China.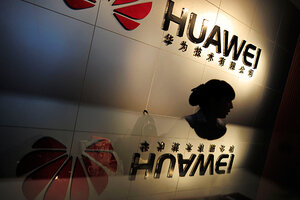 AP
This week's congressional report branding two top Chinese telecommunications companies as potential threats to US national security is likely to spark reprisals from Beijing, experts on both sides of the Pacific predict. But the spat is unlikely to provoke a wider trade war between the world's two largest economies.
In a 52-page report, the US House of Representatives Intelligence Committee warned US companies and government agencies not to do business with either Huawei or ZTE, respectively the world's second- and-fifth largest manufacturers of routers and other Internet and telecoms gear.
Citing the firms' unclear relationships with the Chinese government, the report claimed that they "provide a wealth of opportunities for Chinese intelligence agencies to insert malicious hardware or software implants into critical telecommunications components and systems." Such implants could act as a "backdoor" into sensitive US information systems, sending data back to China, the report suggested.
The report has no legal standing, but its recommendations "will obviously block Huawei's and ZTE's future in America," says Wang Hujun, an analyst at the CCID telecoms consulting agency in Beijing.
"This is a grave blow to the companies," adds Xiang Ligang, founder of the cctime.com website dedicated to telecoms issues.
---