International shift toward China heightens search for identity in Taiwan
Taiwan is at a critical juncture: Deterioration of cross-Strait relations would hurt Taiwan with stock market losses, but Taiwanese aren't willing to get too cozy with China.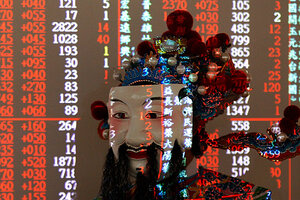 Pichi Chuang/Reuters/File
When the Taiwanese team won first place at a computer game tournament in October in front of 900,000 online viewers, it meant a lot to 21-year-old Huang Chia-fu in Taipei.
Mr. Huang says the League of Legends win in Los Angeles was like a warm glow had beamed down on Taiwan at a critical juncture in its political history.
"Only through events like those can Taiwan show other people it's an autonomous place," says Huang, a university student who worries that his island will otherwise be cloaked by its old archrival China as it increasingly depends on the $7.4 trillion Chinese economy.
Huang is not alone: Although China and Taiwan have been ruled separately since the 1940s, when the nationalists fled there after losing the Chinese civil war, China sees the island 100 miles offshore as part of its territory to be taken back someday. Many Taiwanese fear that move will come sooner rather than later if economic relations grow too fast. And an international shift toward China, if only economic, has set off a dogged new effort in Taiwan to show the world that it's unique, despite shared ethnic roots.
"Taiwanese fully understand the increased dependence on the Chinese economy. Any deterioration of cross-Strait relations is unthinkable because it would hurt Taiwan, with stock market losses," says Joseph Cheng, political scientist at City University of Hong Kong. "But they are certainly very eager to maintain their identity."
---