Obama's visit to Myanmar marks 'new chapter' in US-Myanmar relations
As Myanmar tiptoes toward democracy, Obama - the first US president to visit the former pariah state - denied he was endorsing the government amid criticism that his visit came too soon.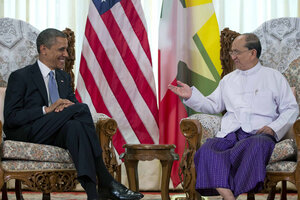 Carolyn Kaster/AP
President Obama became the first American president to visit Myanmar on Monday, using a six-hour trip to balance US praise for the government's progress in shaking off military rule with pressure to complete the process of democratic reform.
Obama, greeted by enthusiastic crowds in the former capital, Yangon, met President Thein Sein, a former junta member who has spearheaded reforms since taking office in March 2011, and opposition leader Aung San Suu Kyi.
"I shared with President Thein Sein our belief that the process of reform that he is taking is one that will move this country forward," Obama told reporters, with Thein Sein at his side.
"I recognize that this is just the first steps on what will be a long journey, but we think that a process of democratic reform and economic reform here in Myanmar ... can lead to incredible development opportunities here," Obama said, using the country name preferred by the government and former junta, rather than Burma, which is used in the United States.
Thein Sein, speaking in Burmese with an interpreter translating his remarks, responded that the two sides would move forward, "based on mutual trust, respect and understanding."
"We also reached agreement for the development of democracy in Myanmar and for promotion of human rights to be aligned with international standards," he added.
---