In South Korea, Kim Jong-un's New Year speech generates surprise - and doubt
North Korean leader Kim Jong-un called for economic reform and expressed a wish to improve relations with South Korea, departing from the usual North Korea rhetoric.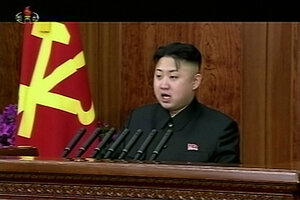 KRT via AP Video/AP
North Korea's leader Kim Jong-un signaled his desire for improved relations with South Korea in a New Year's Day address that South Korean officials see as an unsatisfying attempt to appear conciliatory.
A day after Kim Jong-un stressed the need for resolving North-South confrontation, South Korean Foreign Minister Kim Sung-hwan responded Wednesday by calling for North Korea to make "wise and right decisions" by coordinating with "neighboring countries."
Kim's address was noteworthy for both the absence of the type of recriminations that characterize North Korean rhetoric and also because Kim Jong-un seized the occasion to speak publicly.
The address, broadcast by North Korean state radio and television, was also noteworthy for another reason: Kim Jong-un's father, Kim Jong-il, who died in December 2011, never delivered a New Year's address. His grandfather, "Great Leader" Kim Il-sung, last addressed his nation on New Year's day in 1994, about six months before his death.
The relative restraint of Kim Jong-un's remarks – and the fact that he made them in person, not in a written statement in the official North Korean media – strikes analysts as a positive sign despite contrary indications of rising North-South confrontation.
"The language was tempered," says Mark Fitzpatrick, director of the nonproliferation program at the International Institute for Strategic Studies in London. "It wasn't over the top like so much North Korean propaganda."
---