Blackface Dunkin' Donuts ad in Thailand brings racism accusation
Fair-skinned teen turns black or 'chocolate' in TV commercial yanked this week. Donut giant is on the defensive.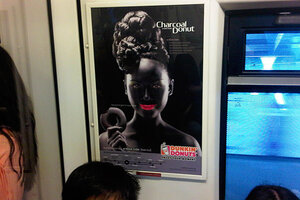 Grant Peck/AP
A Thai television commercial for Dunkin' Donuts yanked off the air days ago amid controversy has ignited a debate over what it meant and how it aired.
The advertisement opens with a fair-skinned teenager wearing a white dress standing in a white room. A close shot of the girl's face reveals a flash of defiance in her doleful eyes before she bites into a chocolate doughnut. Then the camera cuts to a splash of chocolate, the girl takes another bite -- and suddenly her white face turns black.
After that, the camera pulls back to show the girl now painted in chocolate all over, including her hair, done up in a 1950's beehive. Her lips are bright pink. Finally a tag line flashes across the screen: "Charcoal Donut: Break every rule of deliciousness."
The ad first aired in Thailand last month. Last week it was pulled after a leading human rights group based in New York said it would cause "howls of outrage" if it ran in the US.
The message the ad conveyed, whether it was intended or not to be about black people in America or dark skinned people in Asia, reflects a prejudice often used to discriminate, say analysts.
---