In India, the world's cheapest car debuts to fanfare, criticism
Manufacturers take note of the $2,500 vehicle's massive market, as environmentalists fear the effects of an automobile influx.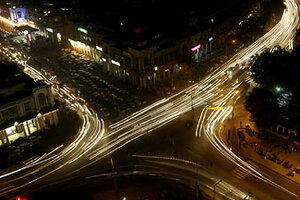 Adnan Abidi/REUTERS
India's Tata Motors unveils the world's cheapest car at Thursday's New Delhi Auto Expo, drawing interest and criticism from environmentalists and automakers around the globe.
Dubbed the 'People's Car,' the small vehicle will reportedly sell for 100,000 rupees (approximately US $2,500), less than half the cost of its closest competitor. With a 600cc motor capable of 58.8 miles per gallon of fuel, the rear-engine 4-seater will create little more pollution than a motorbike. The Wall Street Journal reports:
That should cheer environmentalists who loathe SUVs and other fuel-guzzling four-wheelers, as well as help consumers who currently can't afford a set of wheels.
But as the Tata model and a slew of low-cost imitators make cars more affordable, critics say the expected sharp increase in ownership will lead to an environmental and infrastructure disaster. The Observer reports:
"There is this mad rush towards lowering the prices to achieve mass affordability," said Anumita Roychoudhury, of the Centre for Science and Environment in Delhi. "If vehicle ownership increases very rapidly, we'll have a time bomb ticking away. When you lower the price that drastically, how will you be able to meet the safety and emissions standards? There are no clear answers yet."
---