Will Iraq playbook work in Pakistan?
One tribal leader vows to raise a force of 600 to help fight an Al Qaeda-linked tribe in Waziristan.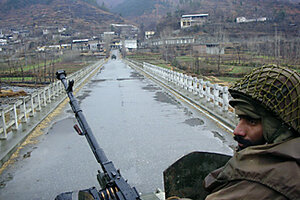 Sherin Zada/AP
Pitting Sunni tribes against Al Qaeda-allied tribes has worked in Iraq. Will it work against the Taliban in Pakistan?
Pakistan's troubled tribal belt is emerging as the latest test bed of this counterterrorism strategy.
On Monday, fresh fighting broke out near the Afghan border town of Ghalanai. Pakistani security forces killed 23 Taliban fighters and lost seven of their own men, Reuters reported.
In September of 2006, Pakistan's government brokered a controversial truce deal in which it released Pakistani militants in return for pledges that they support the government in fighting against Al Qaeda and foreign militants, such as Uzbeks. The dividends of that deal have been slow to materialize.
But last week, Maulvi Nazir, a pro-government Taliban commander, vowed to raise a militia to fight Baitullah Mehsud, a wanted Taliban commander who the Pakistani government blames for the Dec. 27 assassination of Benazir Bhutto and for the bulk of suicide attacks that have left some 800 dead in the past year.
The two militia leaders, who operate near the city of Wana in South Wazirstan, are already enemies. The Pakistani government is relying on that enmity to accomplish what Pakistan's military has failed to do: rid the area of foreign militants linked to Al Qaeda and capture or kill Mr. Mehsud.
---