U.S. woman abducted in Afghanistan. Taliban responsible?
Aid worker helped women set up their own businesses in southern city of Kandahar.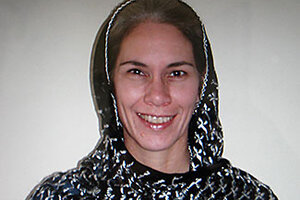 Asian Rural LIfe Development Foundation/Reuters
The abduction on Saturday of a female US aid worker in one of Afghanistan's most dangerous cities may signal increased risk for foreign aid workers.
Kidnappings of Americans have been rare, and some Kandahar residents say the abduction of Cyd Mizell and her Afghan driver at gunpoint is a worrying development.
Sarah Chayes, a former journalist who now runs an Afghan cooperative that exports soap, says the incident "sends a signal. It's like a new chapter in a book."
"They haven't taken an American or a Canadian on the streets like this before. I don't think this was just bandits because the operation looks like it was too sophisticated for that."
Ms. Chayes suggests that the abduction could have been payback for US policy on President Pervez Musharraf.
Kandahar, the spiritual home of the Taliban movement, has been rocked by the neo-Taliban insurgency that has gained strength in the past three years. The deterioration of law and order has also made the city considerably more dangerous for foreign visitors and Afghans alike.
The most recent abduction case involved four members of the International Committee of the Red Cross in the eastern province of Wardak in September. The two Afghans, a Macedonian, and a Burmese citizen were freed three days later. Perhaps the most notorious case of 2007 was the abduction of 23 Christian aid workers from South Korea who attempted to travel from Kabul to Kandahar by bus. Two hostages were shot to death before the rest were released. An American civilian was briefly abducted in Kabul in April 2005 but escaped by throwing himself from a moving car.
---