Musharraf successor Kayani boosts Pakistan Army's image
His changes push officers to focus on eradicating terrorism, rather than on politics or securing perks.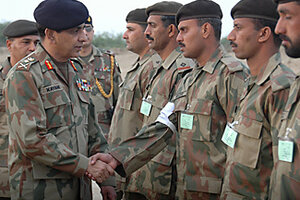 Reuters
Little more than two months into his tenure as the chief of Pakistan's enormously influential Army, Gen. Ashfaq Kayani has begun to systematically reverse some of the most significant policies of his predecessor, President Pervez Musharraf.
He has issued two key directives: prohibiting soldiers from meeting with politicians and ordering all active officers who hold posts in civilian agencies to resign from those positions. Those orders contrast starkly with those promoted by Mr. Musharraf when he was Army chief.
It is an indication that General Kayani is taking his Army in the direction that the United States had hoped he would – attempting to refocus officers on the task of securing the country from terrorists, rather than playing politics or vying for public perks. Kayani has led the military's recently renewed campaign against militants in their stronghold in Pakistan's northwestern tribal belt.
The shift is welcome in Pakistan, too, where the interference of the military into public life was seen as reaching new heights under Musharraf, and the Army – long revered as Pakistan's bulwark – was falling into disrepute.
"This war [against terrorists] will require the full support of the people," says Talat Masood, a former Army general, now an independent analyst in Islamabad. "All these things are very positive."
The military has become a target of militants – the Feb. 4 suicide attack in Rawalpindi, where the military is headquartered, was the seventh in six months.
Kayani's orders come at a time when Musharraf's support among his most important constituency – the military – appears to be waning. In recent weeks, dozens of retired military officers – including a former Army chief and several war heroes – sent an open letter to Musharraf asking him to resign as president. They argued that his continued presence in politics was hindering the nation.
---