India's Christians see rise in hostility by Hindu extremists
Threats against churches and prayer meetings in eastern states have risen in recent weeks.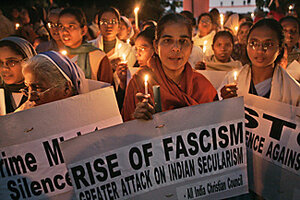 Manish Swarup/AP/FILE
Radha Bai knew something was up when she heard the trucks thundering into Bothali, a bucolic village of low, whitewashed houses in the central state of Chhattisgarh. "They came into my house waving sticks and chanting," she says. "They were looking for me, saying they would cut me into pieces."
Ms. Bai, a Christian, was hosting a prayer meeting on Jan. 16 when 50 Hindu extremists from a group calling itself Dharma Sena ("Army for Religion") arrived. They beat up several men and set fire to 10 motorcycles and a car, witnesses say.
In recent weeks, Hindu extremists in India's eastern "tribal belt" – home to large numbers of forest-dwelling animists – have stepped up a campaign against Christians.
In the neighboring state of Orissa, over Christmas, mobs destroyed 55 churches and 600 houses – "the worst anti-Christian violence in India since independence [in 1947]," says Asghar Ali Engineer, who heads the Centre for Study of Society and Secularism in Mumbai.
"It is getting worse all the time," says Arun Pannalal, general secretary of the Chhattisgarh Christian Forum. He cites numerous cases in which Christians have been threatened and prayer services halted by hostile mobs.
---