Money woes threaten Cambodia's Khmer Rouge tribunal
The tribunal trying Cambodia's former leaders says it needs to triple its $56.3 million budget to try up to eight defendants.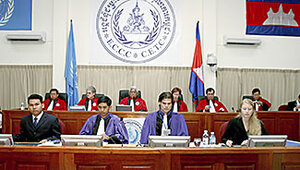 Heng Sinith/AP
The top surviving Khmer Rouge leader appeared in court this week for the first time, three decades after the virulent communist regime allegedly oversaw the deaths of some 1.7 million people in Cambodia.
Nuon Chea, thought by many to be the movement's chief ideologue, is facing charges of war crimes and crimes against humanity at a United Nations-backed tribunal that began work in 2006.
His presence in the docket should be a sign of success for the court, which many hope will undercut decades of impunity that have plagued this tiny nation. But the fitful progress of Cambodia's hybrid tribunal has once again bogged down under budget woes, a lingering management scandal, and real worries that the tribunal's five aging defendants could die before judgments come in.
The Extraordinary Chambers in the Courts of Cambodia (ECCC) now plans to spend $170 million to try up to eight defendants, a process it anticipates could take until March 2011, according to a Jan. 30 budget estimate.
That's a big increase from the court's initial three-year budget of $56.3 million – an amount unfathomable to many ordinary people in Cambodia who live on less than $1 a day.
---