Burma's allure places travelers in ethical dilemma
Activists say tourist dollars support the military junta, but many Burmese say they need the income.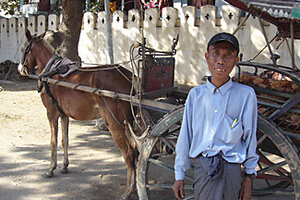 Danna Harman
Out of the motorized canoe, through a bamboo grove, up wooden stairs to the jungle, and there they are – thousands of stupas and shrines of Indein Village, their pinnacles rising into a cloudless sky.
A decade ago, when visa restrictions to Burma (Myanmar) were relaxed and the government had launched its "Visit Myanmar" campaign, the site, on the banks of Inle Lake, was open to foreigners. It's a stunning spot. But also an empty one, devoid of tourists.
Visiting Burma is not for the casual sightseer. The electricity, healthcare, and communications systems are abysmal. Land mines remain in some spots and ethnic fighting in others. There's also the recent violent crackdown on Buddhist monks and their supporters.
But for those willing to overlook all this to experience Burma's charm, coming here also presents an ethical dilemma: Do you heed human rights activists' pleas to stay away to keep tourist dollars from a military junta's coffers or listen to some Burmese who say that income is a vital source for the country's impoverished.
Even Lonely Planet, one of the few tour books that puts out a guide to the country, begins the edition with a lengthy chapter titled: "Should You Go?" And many have decided not to.
Since September 2007 street demonstrations against the government that turned deadly, tourism has gone down 40 percent, the Ministry of Tourism admitted last month. But it's not as if the number of visitors was tremendous before the protests. According to the government-run Central Statistical Organization, 349,877 tourists came to Burma in 2006, the lowest number to visit any country in the region. Next-door neighbor Thailand, by way of comparison, received 12 million.
---