New Delhi cleanup sends in the Beggar Raid Teams
To transform itself into a 'world-class city,' India's capital is locking up panhandlers.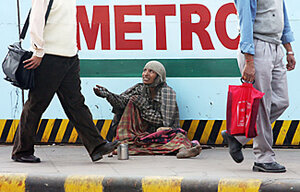 raveendran/afp/getty images/newscom
Paltu frantically tries to hide a coin in his clothing. The young man has been begging outside a temple in New Delhi, where panhandling is illegal. And police have just seen him accept 1 rupee (about $0.03) from a passerby.
As they swoop down, Paltu begs the police not to lock him up. "I can't get any work," he cries, gesturing at the stumps of his legs. But the police force Paltu, who walks on his hands, into a van with grilled windows. He moves obediently to a seat at the back, quietly weeping.
Though begging has been illegal in India's capital since 1960, it has mostly been tolerated. Across India, the ancient custom of giving alms, especially near places of worship, remains an important part of many peoples' lives.
In 2010, however, New Delhi will host the Commonwealth Games, and authorities are trying to transform the capital into the "world-class city" promised in glitzy ads. Many of their efforts are controversial, from rounding up stray cows – regarded as sacred by Hindus – to building a mammoth games "village" on the banks of the Yamuna River, which nonprofit organizations say may precipitate an environmental disaster.
But nothing is quite so shocking as New Delhi's crackdown on its beggars. "This is a criminalization of poverty," says Anand Kumar, a lawyer with the New Delhi-based Human Rights Law Network. "Many of these people have no option but to beg. To arrest them without even providing the infrastructure that guarantees them the most basic needs is appalling."
---