Danish cartoons: one Afghan's peaceful protest
Muhammad Sediq Afghan's hunger strike has inspired dozens to join his nonviolent efforts.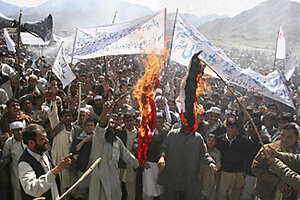 Hoshang Hashimi/Reuters
Hundreds of demonstrators marched the streets of Kabul Sunday, calling for the eviction of Danish and Dutch troops, while in the western city of Herat, thousands assembled and burned the nations' flags.
Yet even as angry protests sweep the country in response to the republication of cartoon images of the prophet Muhammad, in one park in Kabul, protesters are taking a different approach – one they say better reflects their religion of peace.
Muhammad Sediq Afghan, a professor at the Kabul-based World Philosophical Mathematics Research Center, is sitting in a small tent near the center of town, where he has spent close to a week without food.
Mr. Afghan is leading a dozen others in a hunger strike to protest the Danish cartoons and a film by a Dutch politician that compares the Koran to Hitler's "Mein Kempf." "I will continue to fast until the authors apologize," he says. "Others are burning flags and rioting. We don't like this – we want to do things peacefully."
It is an unlikely tactic in a war-torn country with a history of violent protests. Two years ago, a Danish newspaper printed cartoon images of Muhammad that many Muslims considered offensive, sparking protests and riots across the Muslim world. Last month, Danish newspapers republished the images after police uncovered a plot to murder the cartoon's author. At the same time, Dutch papers announced the March release of a film that contends that the Koran is "an inspiration for intolerance, murder and terror."
Protests erupted again throughout the Muslim world, including in Afghanistan. In the eastern city of Jalalabad, furious protesters torched the Danish and Dutch flags, while more than 200 Afghan lawmakers shouted, "Death to enemies of Islam," in a demonstration outside the parliament building in Kabul.
---